When it comes to CVs for Emirates jobs or Gulf countries, the most prevalent question is whether there is a unique method for the positions you can find or just one CV format. In simple words, the answer is no. However, there are some criteria to follow while CV writing for the United Arab Emirates. If you abide by those tips, there is a high probability for you to get a job in Dubai.
In this article, we are going to discuss in more detail those tips for writing resumes that will help you make a great first impression with recruiters.
Personal information in the CV format for the UAE
Best CV writing tips for the 2022 job market
General norms for a successful CV writing process
CV writing for a job in the Emirates: Important items to be aware of
What not to include on your resume
Aiming for the best CV writing in the UAE? The Talent Point can assist you!
1. Personal information in the CV format for the UAE
The United Arab Emirates is in the Gulf. Not Europe or the United States. As a result, keep in mind that you have to include your personal information on your UAE CV. Because they have requested them. They may consider your marital status when deciding on the sort of lodging if the work package offers it.
Name, date of birth, location, nationality, driving license details, gender, location, and languages you know are typically what UAE employers check for in your resume's personal area. Take all of these factors into account when CV writing in 2022.
1.1 Your contact information
You can normally write them just below the name in the header section. You must provide your phone number, email address, and the link to your LinkedIn page in this box. It would also help if you add any other online job profiles.
1.2 Photo
Also, keep in mind that in UAE CVs or resumes, a photo of yourself is necessary. Add a passport-sized photograph should in the top right corner of the CV. Make sure you dress professionally, with no fancy or casual attire.
1.3 Profile and summary
According to experts, a recruiter spends about six seconds deciding whether or not a candidate is right for the position. As a result, you must ensure that the recruiter truly likes the manner in which you have presented your material. That is the reason why you should make your resume stand out. The summary section is the best place for this. Furthermore, make sure you compose a persuasive overview of your accomplishments. However, be succinct and straightforward. There is no need to write a full story there. If you do it correctly, there is a good chance the recruiter will read the rest of your application.
What you need is a precise statement to highlight your essential qualities and distinguishes you from the competition. It is usually at the top of a CV and highlights a few key accomplishments and talents while also expressing your career goals. Because your cover letter will be job-specific, an excellent CV profile focuses on the industry you are applying to. Personal statements when CV writing in 2022 should be brief; 100 words is the ideal amount.
1.4 Abilities
This is where you talk about the foreign languages you know and the computer programs you know how to use. That is only an example. Add the skills that are relevant for the position. Do not oversell your skills; you will have to back up your statements during the interview. If you have a lot of job-specific capabilities, you should create a CV that highlights your abilities. Professional CV writing in Dubai is very important.
The majority of candidates take this section of the interview lightly. They have a habit of copying and pasting the talents they need to demonstrate. However, they fail to demonstrate why they believe they possess such abilities and how they have aided them in their work
In consequence, it is best to be upfront and honest with yourself about the skills you have or have demonstrated. Try to match the job advertisement or the advertised role. It may take some time, but it is worthwhile to think about this. Quantify your abilities and display them as accomplishments. Simply demonstrate how the recruiter has influenced your performance.
1.5 Working experience
It is more efficient to list your work experience in reverse chronological order when CV writing for a job. That is, you must put the most recent experience at the top of the list. For each experience, use bullet points. Also, make sure you measure and display your experience as an accomplishment.
Before adding your educational experience, make sure to write what was your title in your previous job. Also, the company's name and which were your tasks there.
1.6 Educational background
All previous education, including professional certifications, should appear when CV writing in 2022. Listed and dated. Put the most current at the top, adding the dates and the grades as well. You should talk about any specific modules only when they are necessary.
To be more exact, we normally specify the two most current or most recent education qualifications while writing the education section of the UAE resume style. For example, if you have a master of business administration, a postgraduate diploma, and a diploma in marketing, the master of business administration and the postgraduate diploma should be in this section.
Keep your CV brief and specific. So that the recruiter may easily read it. Determine the abilities or keywords that the job advertisement requires, then carefully select your keywords to address them.
1.7 Interests and other pertinent details
This is where you can put your certificates, licenses, and volunteer activities on display. The recruiter will gain a better understanding of your background by looking at this. However, keep in mind that this is not the place for you to embellish or go into great detail, so utilize the fewest words and wordings possible.
Relevant interests, on the other hand, can help paint a more complete image of who you are while also giving you something to talk about during an interview. If you want to be a journalist, you can write your own blog or community bulletins; if you want to work in sales, you can join a theater group; and if you want to work in the environment, you can get involved in climate change action. Also, on a side note, remember to update your current job on the CV.
1.8 References
You do not need to provide your referees just yet. You can say references available upon request,' but most employers will assume this, so you can leave this out if you are short on space.
References are not required in the Dubai formats unless the employer specifically requests them. Because they do not always search for it at the beginning of the CV screening process, and it is not mandatory. Thus, it is usually a good idea to state in the references section that the references can be obtained if required.
2. Best CV writing tips for the 2022 job market
When CV writing for a job, it is important to keep everything consistent and tidy. The way you compose it and the design you use for every detail is very important. Take for example this advice into consideration:
When possible, use active verbs. Include terms like 'made,' 'analyzed,' and 'devised,' for example, to portray yourself as a self-starter.
Use a spell checker or have someone proofread your resume to avoid any mistakes..
Avoid overused words like 'team player,' 'hard worker,' and 'multitasker.' Instead, give instances from real-life situations that exhibit all of these abilities.
When CV writing, make it unique. Examine the company's website and social media accounts, see if they have been covered in the local paper recently, and use the job advertisement to ensure your CV is tailored to the position and employer.
Customize your resume according to your needs. Choose if you want a chronological, skills-based, or academic resume.
Make certain that your email address is professional. Or create a new one with a neutral, work-oriented name.
On your CV or job application, do not lie or exaggerate.
If you submit your CV online, do not disclose your home address because fraudsters may target you.
Make sure to add a cover letter unless told otherwise. That will help you build your application from there.
3. General norms for a successful CV writing process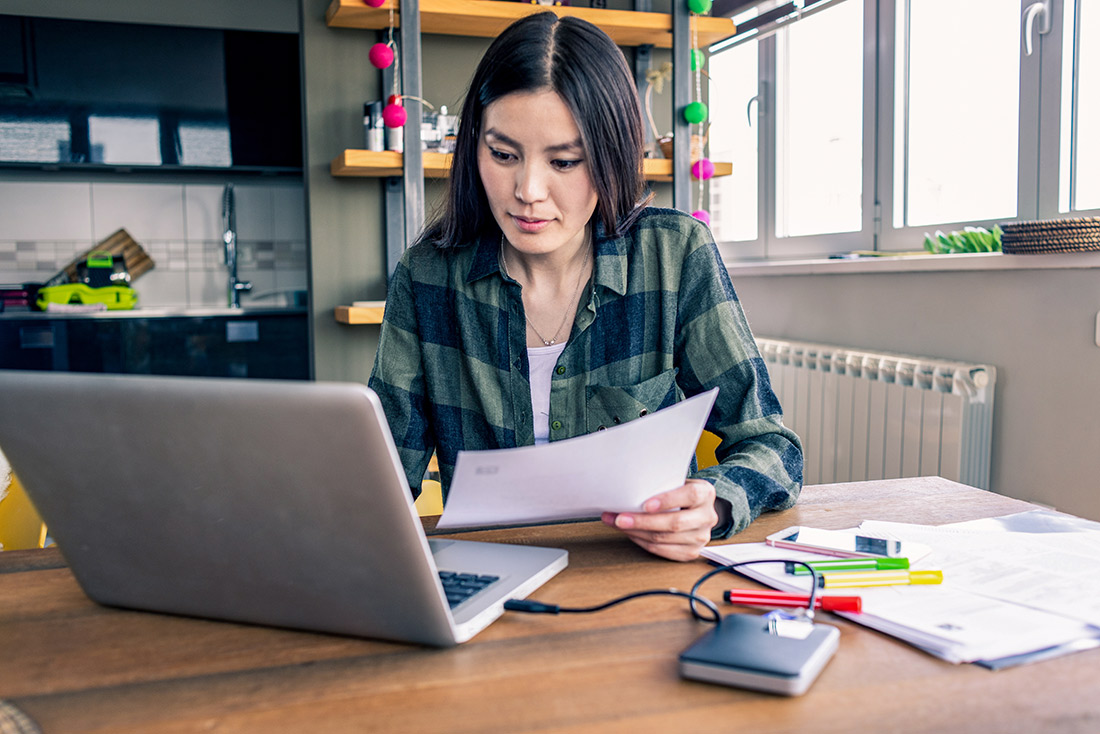 The way you decide to configure your CV is very important too. However, there are some rules that you have to follow to make your resume look more professional:
Breaking up your CV with section headings is a fantastic idea.
Avoid using Comic Sans and any similar typefaces. Choose a font like Arial, Calibri, or Times New Roman that is professional, clear, and easy to read. Make sure that all fonts and font sizes are the same across the board.
Take care of spacing and bullets, using them properly. This format will make it easier for recruiters to scan your resume.
When saving the document, give it a name other than "Document 1." Make sure the document's title is professional and unique to you, such as 'Mary-Johnson-CV'.
Unless the job advertisement specifies otherwise (for example, it may ask you to submit your CV and cover letter as a Word document), save it as a PDF file extension to ensure the file is available for reading on any computer.
4. CV writing for a job in the Emirates: Important items to be aware of
There are certain norms or criteria to follow when it comes to writing a CV for jobs in the UAE. They are not too different from the rest of the world. However, you must keep them in mind to make sure that you cover all your bases.
Use a reverse chronological CV format.
Do not extend your resume by more than 2 pages if possible.
Use the best fonts and font sizes that are easy to read.
Use a photograph of yourself.
Fill in your personal information. For the experience part, reverse the chronological order.
Education should be done in reverse chronological sequence as well. Use the two highest qualifications. However, if you have further successes with other educational degrees, you are not limited.
Mention that you would be happy to supply references upon request (unless they have asked you to send them in the job advert).
Avoid grammar and spelling errors.
Proofread
Use action verbs and keywords whenever possible.
5. What not to include on your resume
You have to be careful with space when writing your resume. Give priority to matters that are relevant to the job, highlighting them to the manager for them to know you better. Your resume should portray you as an appealing applicant by leaving off the information that hiring managers do not need to know.
To increase your chances of being invited for an interview, make sure your resume does not include any of the following unneeded or controversial elements:
Far too much information
An unbroken wall of writing
Errors in spelling and grammatical structure
Inaccuracies in your credentials or experience
Personal information that is not required
Your age
Negative remarks regarding a previous employment
Too many details about your interests and hobbies if they are unrelated to the position
Passive language
Extra content or miscellaneous
Small text
6. Aiming for the best CV writing in the UAE? The Talent Point can assist you!
The process of professional CV writing in Dubai is one in which you need to be very meticulous. To help you with this important task, The Talent Point has the tools for you. We are a company that dedicates to helping employers, job seekers, and freelancers find exactly what they are looking for.
Would you like to know how to get access to our platform and the services we provide? Give The Talent Point a call at the following number: +971 43 316 688; or send us an email at [email protected]. We have a team of specialists ready to answer all of your questions.