The first impression you make during a job interview is often more important than your actual qualifications. These are just some of the interview tips you must have before you face them. What companies also evaluate are your educational background, your overall attitude, your experience, and your ability to talk and share your ideas.
In this article, we are going to give you some pointers on what you need to be careful with before, during, and after a job interview to guarantee your possibility of getting the position. The recruiter must have an exchange of ideas with you, that leads to a natural conversation. That is the only way to determine if you are good for the position and the company.
Getting ready for a job interview
Aiming to make the best possible first impression. Which are some good interview tips for this?
Video interviews: the best job interview tips to approach them
Looking for the best job interview tips? The Talent Point has got them for you!
1. Getting ready for a job interview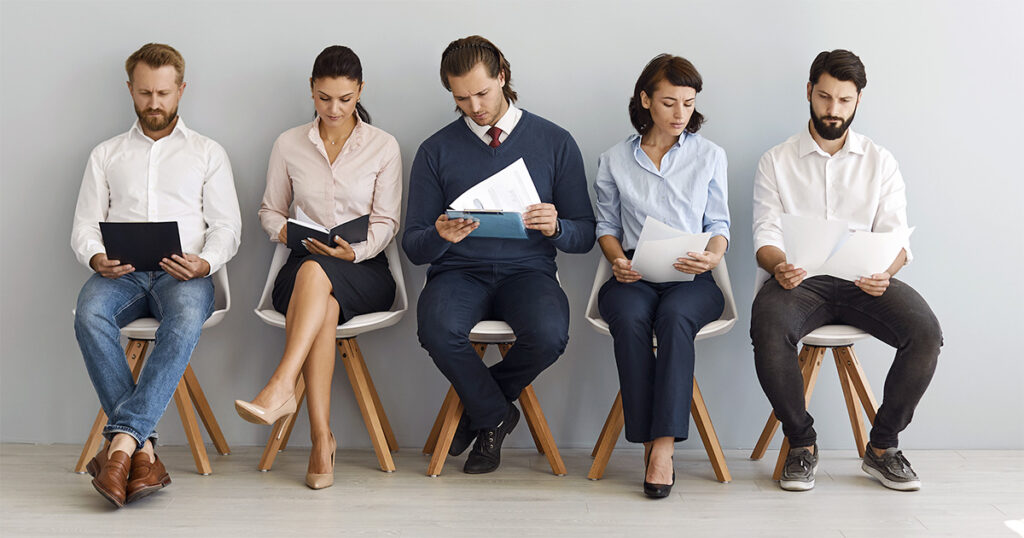 You never get a second chance to create a good first impression during a job interview in the UAE, having a well-thought-out strategy is critical to increasing your chances of winning that dream job.
To succeed in an interview, the key is to be prepared. Having a good professional presentation puts you ahead of other people who may even have better credentials. These interview tips are something you must consider.
1.1 Make a route to the job interview that is convenient for you
One of the most crucial things to consider when preparing for a job interview in Dubai is how you will get there. You will not succeed in a job interview if you do not plan it properly. If you are driving to the interview, make sure you have enough gas in your car the night before. You do not want to eat too much on the way in your suit.
Arriving on time is paramount. Try if possible to arrive 10 or 15 minutes before the scheduled time. Confirm the location of the company and, just to be sure, stop by the area a few days before. Be aware of the reports regarding the traffic on the previous morning, and have a second option for a route just in case.
If you are using the train or bus, check the weather forecast the night before and monitor public transportation websites for any delays. Stay aware of traffic so it does not affect you in case you have to take a train or a bus. Finally, to give yourself plenty of time, go to bed and wake up early the night before.
2. Aiming to make the best possible first impression. Which are some good interview tips for this?
2.1 Examine and re-examine the job description
How do you prepare for your dream job interview in Dubai now that you have received a call? The first step to prepare for the interview is reading the description of the job. The majority of job descriptions follow a similar pattern and are typically divided into the following categories:
Department/job title
Responsibilities and tasks
Required abilities
The job title and department will offer you an idea of the position's main purpose and where it fits into the company, allowing you to figure out who your possible line manager is.
Take more than one careful look at the description. You have to be certain that your qualifications are suitable for the job. As a result, you will be prepared for questions about your previous work experience in similar roles at other firms.
2.2 Investigate the firm
Organizations always look for people who have the same ethics and values as them to hire. Researching the firm before a professional job interview in Dubai will provide your insight into the company's future goals and ambitions. If you can simply approach these matters with your potential employer, they will see the act of hiring you as an investment for the future. The following interview tips will help you figure out the aspects of the organization you should look into:
Check out the company's financials on their website. Doing a quick search online of the company can give you information about their situation. Is there a chance they have merged? Or have they lately expanded? LinkedIn is also an excellent place to find out what is going on in the world.
Look for comments from current or past employees on LinkedIn and Facebook, or Google reviews.
Executive staff: investigate the hierarchy of the company to see who are the executives. Visiting their website is the best way to find out this information.
Competitors: research the company's primary competitors by visiting the websites of companies in the same industry.
2.3 Make sure you are prepared for frequent interview questions.
Online, you can find many lists of common interview questions that can help you practice. Then, how do you get ready? Pick any list and consider which questions, given your age and standing, you are most likely to face (about to graduate, looking for a summer internship). Then prepare your responses ahead of time so you do not have to fumble over them during the interview.
2.4 Choose the proper outfit
When it comes to a professional job interview in the UAE, first impressions are everything, and being able to dress to impress will help you land your ideal job. Although it may seem natural to dress up for the interview in your best suit, skirt, or dress as if you already work there, there are other factors to consider. You want to appear as if you are ready to take on the job.
It is crucial to be able to respond to questions and concentrate during an interview, so dress comfortably. Check the weather forecast the night before and have a few outfits on hand in case the day turns out to be hot or cold.
2.5 Anticipate the interviewer's reservations and concerns
Usually, the number of applicants surpasses that of positions available. Because of this, hiring managers look for ways to reduce the list of candidates. Put yourself in their shoes and think of the reasons why they would think twice before hiring you. After that, get ready to defend yourself.
2.6 Do not stop practicing
It is one thing to have a mental response ready for a query like "why should we hire you?" Being able to confidently express your answer out loud with the necessary confidence is a different task. No matter how clear your concepts are in your head, the first time you try it, you will sound muddled and confused! Repeat ten times more, and you will sound much smoother and more articulate.
Nevertheless, you cannot practice the moment you are with the interviewer. You have to do it beforehand. What is the greatest approach to practice? Form a group and have one of your friends interview you. Keep on with the exercise for several rounds, exchanging roles.
Also, you can record your responses and then listen to them to look for points to improve. Whichever case you choose, make sure to speak loud and clear. Part of your training should be having the right intonation. Rehearsing your response in your head is not going to be enough.
2.7 Be proactive during the interview
Some normally assertive candidates become too meek during a professional job interview, maybe to be courteous. However, civility does not imply passivity. Do not make the mistake of just waiting for the interviewer to bring up every matter that is discussed during the job interview. For your interviewer to know your best skills, you have to find a natural and confident way to bring them up. If you are going to discuss salary, make sure you know how to approach the subject.
2.8 Always carry a copy of your CV with you for every job interview in the UAE
Whenever you go to an interview, make sure you have a copy of your resume to bring along. If for some reason the interviewer does not have their copy, you can give them yours and it will save time for both of you.
2.9 Take advantage of the "tell me about yourself" question.
This is a very common inquiry that recruiters make at the beginning of the meeting. Then, what should you do? It is fine if you tell a narrative about where you were born, what your parents do, how many siblings and sisters you have, or how many pets and cats you have. But you want the recruiter asking you why they should hire you, not what your favorite movie is. Keeping an updated online job profile would be helpful in this aspect.
2.10 Bring examples of your work with you
You will most certainly be questioned about particular work you have done in the role during the interview. Consider tasks you have done in previous employment, clubs, or volunteer roles that demonstrate you have experience and success completing the work they require after examining the job description.
2.11 Prepare intelligent interview questions for your interviewer
It is a two-way street when it comes to interviews. Employers expect you to ask questions because they want to know that you are genuinely considering working there.
2.12 Use proper etiquette and body language
From the moment you walk into the building, maintain a confident and approachable demeanor. Sit properly and straight, tall with your shoulders back. Breathe deeply and exhale slowly before the interview. It will help you control your nerves and feel more confident. To begin a handshake, the interviewer should extend their hand first. Make eye contact at all times. A good handshake has to be firm, but not as strong as to hurt the other person's hand.
2.13 Send thank-you notes after every interview
After each interview, send a thank-you note. The method will depend on the preference of the recruiter. It could be by email or on paper. Make your notes more personal by mentioning what you and the interviewer talked about. If you are thanking a personal contact for their assistance in your job search, handwritten messages may be preferable. Regardless of the method you use, send the note within the 48 hours following the interview.
Make time after every interview to analyze some important pointers of the interviewer to write that appreciation note. Also, write a list of items you could have improved during the interview. Based on this, make the necessary changes for the next one.
3. Video interviews: the best job interview tips to approach them
Each year, video job interviews in the UAE become more common. You have to make sure to make a great impression on your video interview as if it were a regular one. That is the reason why we must address them and discuss some useful job interview tips.
3.1 Video interview tips in general
Maintain a professional tone. If you are using Skype or another video platform, make sure your user name, like your email address and social network accounts, is professional.
Maintain eye contact with the other person. Try to avoid staring towards the middle of the screen by looking squarely into the camera. So that the interviewer can hear you clearly, and speak directly into the microphone.
Take a breathe. Allow the interviewer to finish before responding. Because digital video streaming can take a few seconds to load, wait a few seconds before answering.
Keep in mind that they can see you. The interviewer can see you, unlike in a phone interview. It may seem self-evident, but it is easy to forget that you are being recorded when answering. Remember to smile and present yourself as friendly and approachable. In a face-to-face interview, you have more opportunities to interact and bond with the interviewer than you would in a phone interview, so take advantage of it.
Keep your updated resume at hand. Finally, keeping your CV close by is a good idea. Just make sure you do not glance away too much from the camera. Having notes on hand can be useful for referring to in-between video interview questions.
4. Looking for the best job interview tips? The Talent Point has got them for you!
There are never enough interview tips you can receive before you jump into an interview. In the end, it comes to being able to put them into practice when you are in front of the hiring manager. We at The Talent Point want to give you as many as we can so you are ready to achieve the goal of landing that job.
Would you care to learn more about The Talent Point's services? Reach us by phone at the following number +971 43 316 688. You can send us an email as well at this address: [email protected]. We have a team ready to assist you with your questions.